Presented by Saddleback Art League
June 19 to August 12 at the Mission Viejo Library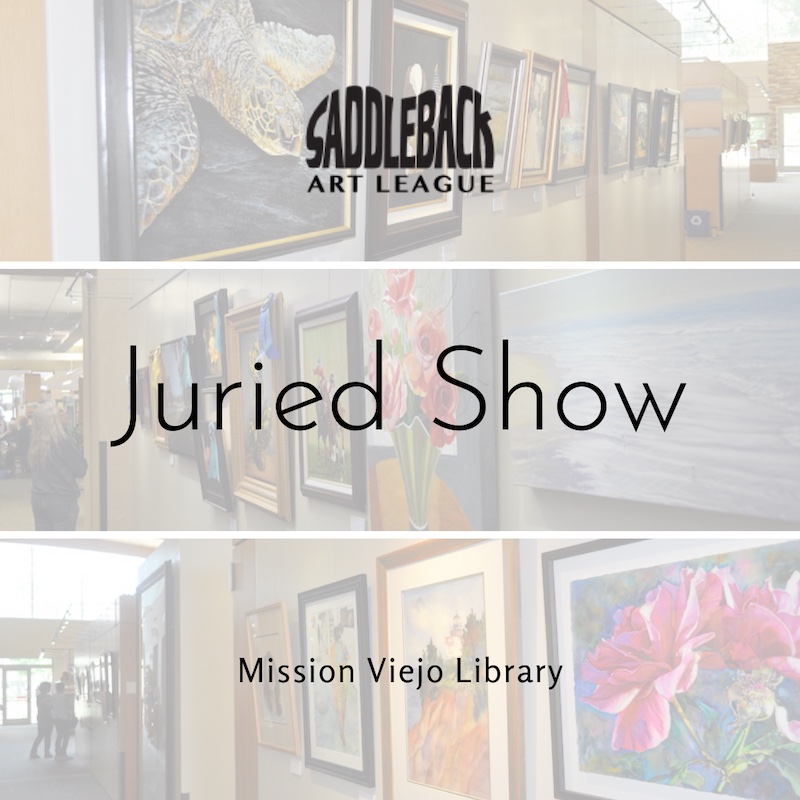 Requirements
Framed and hanging by a wire (no sawtooth hangers, only wire)
Members only – Join at https://saddlebackartleague.com/join-now/
No nudity, politics, violence, profanity
Max diagonal size: 45 inches (includes frame)
Limit 3 paintings per person, 100 paintings in show
Fees:

1 painting for $20
2 paintings for $35
3 paintings for $50

Entry deadline: June 14 Register at https://saddlebackartleague.com/event-list/#!event/2022/6/18/spring-reflections-juried-show
10% commission to SAL for all sales
SAL is not responsible for art not picked up on time
Previous award winners will be marked as "Masters"
Entry details for each piece:

Artist Name
Artwork Name
Medium
"NFS" or price with phone or email
Awards
$100 Best of Show
$50 First Place per Medium (watercolor, mixed media, acrylic/oil)
Announced at Potluck Banquet in July 12
Timeline
See volunteers needed.
Contact drjimprothero@gmail.com
June 14, Tuesday
Entry registration deadline. Register at https://saddlebackartleague.com/event-list/#!event/register/2022/6/18/spring-reflections-juried-show
If not paying online, checks will be accepted at this monthly meeting.
June 18, Saturday
Art Drop-off
10AM-2PM
Library TV Studio Room. Need 4 volunteers. No drop offs will be accepted after 2PM. Volunteers need to arrive at 9:30AM for their assignments. Sign hold harmless agreement and provide receipt needed for pickup.
Photographer
Take pictures of artwork that won awards
4PM
Make Labels for Show Entries
You will be given a list of all entries from board members at least a week before drop off date. Must have all labels done and delivered to contest chairperson by Saturday, June 18 or no later than 9:30AM Sunday, June 19. Contact chairperson to arrange a time for delivery.
June 19, Sunday
Carry/move Artwork and Hang Show
Need 10 volunteers. Must be capable and able to lift and hang paintings. Please do not sign up if you are not capable of doing do.
9:30AM-12PM
Prep Art
Attach labels to wall, hang ribbons, remove yellow, red, blue and green stickers from paintings, wipe down all glass frames housing any watercolor artwork with Windex to remove any finger prints.
9:30AM-12PM
June 21, Tuesday
Judge and Board Members
Rick Delanty
2pm
Late June
Create certificates for juried show entries
Must be completed before awards ceremony, July 12
July 12, Tuesday
Awards Banquet Potluck – Setup
5:30-6PM
All attendees will help set up. [Potluck signup for drinks, salad, desert, sides. Entree?]
Awards Banquet Potluck
6-8PM
NPM in the Juniper Room (NOT the usual Jacaranda room and not MV City Hall Saddleback Room)
August 12, Friday
Take Down Artwork
11AM
Pick-up All Artwork From Show
12:00 PM to 2:00 PM
All artwork must be picked up at this time
Artwork will not be released without confirmation of "Hold Harmless Agreement" form (which should have been signed at time of drop off) or a receipt.
Artwork not picked up will be charged $5 per day storage or become the property of SAL.
10% commission is payable to Saddleback Art League for any art sold, as a result of show.
Entries juried into the show may not be removed from the show prior to this time